Panorama & Pretendica at Blue Ocean Music Hall
Panorama & Pretendica
Tributes to the Music of The Cars and Pretenders
Saturday, April 15 | 8PM
Reserved Seating: $19.50 – $25.50
+ $3 Additional Day of Show
Panorama (a tribute to the CARS) and Pretendica (Pretenders Tribute),.. one awesome night with TWO great tributes at Blue Ocean Music Hall
About Panorama
PANORAMA – Five talented musicians from the Boston metro area dedicated to reliving the Magic of The CARS LIVE! Skillfully recreating their music with passion and accuracy, – transporting the audience back to the time when spinning LP's ruled the airwaves and new age music shook the concert halls with excitement. Strap in, get ready, and Shake it up! Don't worry we'll Drive you Home. The Cars were an American rock band formed in Boston in 1976. Emerging from the new wave scene in the late 1970s, the line-up consisted of singer, rhythm guitarist, and songwriter Ric Ocasek; bassist and singer Benjamin Orr; lead guitarist Elliot Easton; keyboardist Greg Hawkes; and drummer David Robinson. In 2018 The CARS were inducted into the Hall of Fame. Their music has inspired countless musicians and will live on for generations to come.
About Pretendica
'Pretendica' is a Boston based Pretenders tribute band, bringing all the tasty licks of Rock and Roll Hall of Fame band The Pretenders to the stage. Linda Twiss Gioscia (The Ultrasonic Rock Orchestra) takes the role of super star Chrissie Hynde. Channeling the late James Honeyman Scott on guitar is Greg Mckenna (Letters To Cleo), the bands' second Linda, Linda Bean Pardee (Orbit) plays the Bass a la Pete Farndon, and Mike Gioscia (WZLX/WFNX) is in charge of the Martin Chambers drumming. These four also play in the Cheap Trick trib band 'Cheap Trickery'.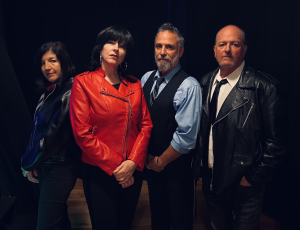 Pretendica – Covering New England
Indulge your senses in great food and dine at one of our on-site restaurants before the show! Click to make a reservation for dinner before the show at Seaglass Restaurant, or Capri Seaside Italian Grille.
Date and Time
Saturday Apr 15, 2023
8:00 PM - 10:00 PM EDT
Location
Blue Ocean Music Hall
4 Ocean Front North
Salisbury, Ma., 01952
Fees/Admission
Reserved Seating: $19.50 – $25.50
+ $3 Additional Day of Show
Website
Contact Information
978-462-5888 Blue Ocean Music Hall Box Office
Send Email